How to Install Mods / Join a Server with Arma3Sync
This guide explains how to use 
ArmA3Sync
 to download our mods and play on our servers.
1. Download and Install ArmA3Sync
http://www.armaholic.com/page.php?id=22199
2.

Set the path to ArmA

 

When you launch 
ArmA3Sync
 for the first time it will ask you for the directory of arma3.exe. Select the arma3.exe from the location you have ArmA 3 installed. This will most likely be "\Steam\SteamApps\common\Arma 3".

3.

Set the paths to Mods



Go to the Addon Options tab and add the directory where your mods are installed or where you would like to have downloaded mods installed.
A: If you have been previously using PlayWithSix your mod folder will most likely be "\Documents\Arma 3".
B: If you have not been using PlayWithSix or similar software you have your mods installed in your ArmA 3 main folder.
You can also add multiple directories if you want. The directory on top of the list will be the one where newly downloaded mods will be downloaded and installed.
4.

Set Launch Options
Go to the Launcher Options tab and select the profile you want to use when you launch ArmA 3 with ArmA3Sync.
Edit the launch options depending on your personal taste:
5.

Connect to the 3CB Repository



a) Switch to the Repositories tab
b) Click the blue + button to add a repository
c) Add the link to our repository [http://repo.3commandobrigade.com/autoconfig]
d) Click the Import button and then the OK button
e) Select the 3CB A3Sync Repository and click the Connect to Repository button (blank page with arrow)
6.

Download Mods
Make sure the default destination folder is the same as the folder you selected and put on top in step 3.
f) Check for Addons by clicking the green tick mark. Files that are coloured red have to be downloaded. If it is your first time playing on the server you will most likely have to download all the files.
g) Place ticks in all the mods to update and start the download clicking the play button.

7.

TFAR Installer



If this is the first time you have installed the Task Force Radio mod, it needs to be configured to work with TeamSpeak.
8.

Joining a Server



Our common modsets are directly linked to our servers.
So if you want to play on the public server you can just go to the drop-down menu at the bottom of ArmA3Sync and select the correct server.
Click on Start Game and ArmA 3 will launch and connect you to the server automatically.
9.

Starting ArmA 3 without joining a server



You can also start ArmA loaded with a 3CB or custom modset without automatically joining a server:
Go to the Addons tab: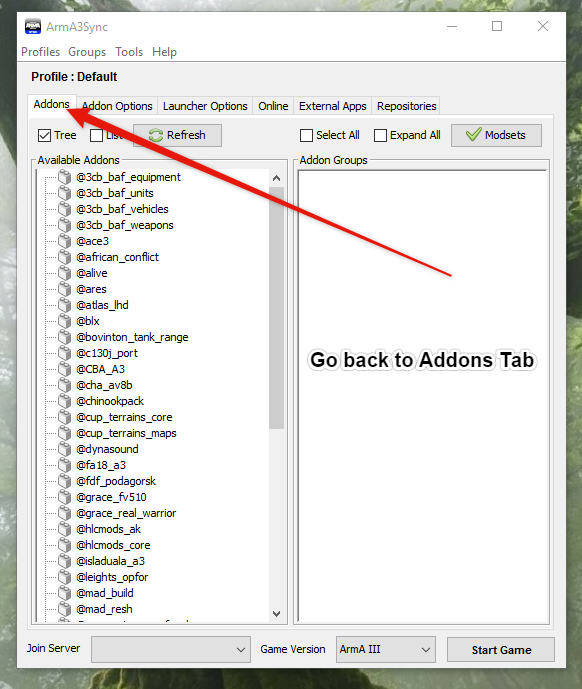 Select the server with the modset required, which adds it automatically to the Addon Groups, or create your own custom Addon Group modset: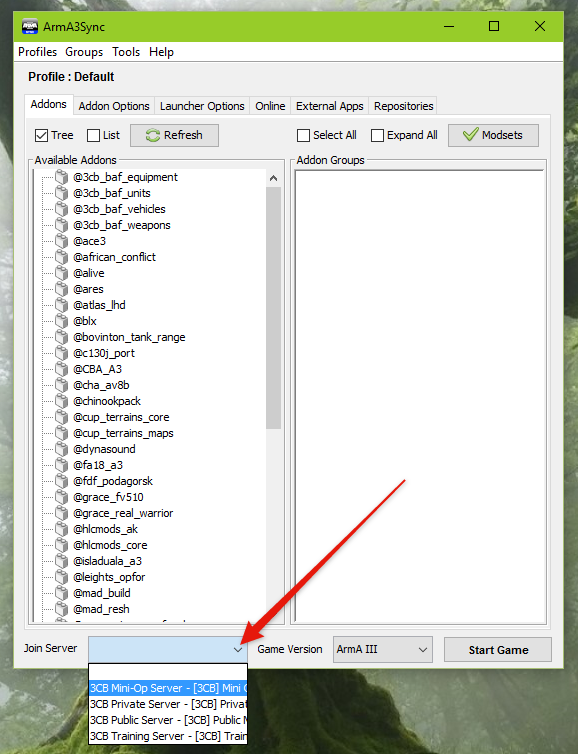 Tick the Addon Group for your required modset.
Deselect any servers, so the Join Server is blank, Start Game.